Kokomo CEO News 4.27.18
---
4th Annual CEO Trade Show
Bel Air Events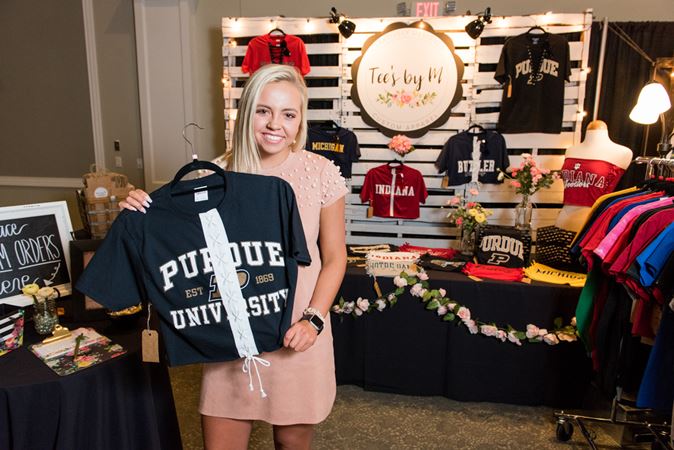 One of the biggest changes this year was nearly every booth was selling a product and collectively they grossed over $6,000 in 2 1/2 hours! A comment we heard again and again was, "I think this is the best Trade Show yet!"
"This year's team worked incredibly hard and worked fast. There was virtually no last minute scurrying to get booths ready. I was so impressed with their concepts, branding and professional look of all of their booths. I couldn't be prouder!" -CEO facilitator, Morgan Young.
See many more photos on our Facebook Page.
If you'd like to inquire about any products featured at our Trade Show, here's our contact list:
Bite Healthy, Brooklyn Hayes 765-431-2555
Bluebell Designs, Riley Garner 765-210-2440
Bubble Coffee, Shuhao Xu 929-442-6282
Caballero Collection, Andrew Pervez
C's Custom Tees,Connor Rezo: 765-513-1070
Eco Pouch, Andrea Peterson, twitter, instagram
Erika's Kreations, Erika Pate 765-480-7446
Fashion.Works.Shop, Lauren Hickey instagram
Fresh Faces, Grace Sullivan, 765-437-1080
HanMade Cards, Josh Hanlon 765-461-4750
Nature's Meds, Grace Lupois, 765-513-6446
O'Neal Art, Cooper O'Neal 765-860-5135 instagram
Paris Prints, Paris Owen, 317-397-5946
Sapid, Chardonnay Clark, 101char101@gmail.com
Tee's By M, Mia Wallace instagram Facebook
---
Andrew Pervez
Caballero Collection
My name is Andrew Pervez and I'm a senior at Kokomo High School. I played tennis and was involved in FBLA, MYAB, and Student Council. I plan to study Optometry at IUK. My business, Caballero Collection, is an online clothing retailer for men, centered around business wear accessories: socks, ties, and watches. CEO has had a profound impact on my knowledge about the world of business as well as how to work together as a team to accomplish even larger goals.
If you know a man of any age who desires to enhance his wardrobe with some affordable accessories, please share my business, Caballero Collection. Great choices, shipped directly to your home.
---